Recently I attended Networking Field Day 22 (NFD22) in San Jose, CA as a delegate. By attending NFD you may be exposed to companies that you may not normally come across. The company that I am going to talk about here is called Gluware and more specifically about how they can help with keeping your network configurations in compliance with the desired state.
What Gluware is wants to do you for your business is be the solution that can solve the automation and configuration compliance challenges. Their mission is "to apply powerful intelligence to enable transformative automation." They also did state that they are a multivendor and multidomain ( LAN / WAN / Wireless) solution, which in my experience is important as multi-vendor networks are common.
There was something they mentioned that resonated with me. It was how they summed up the current state of automation into three main parts:
Specialized vendor tools that automate tasks (DNA/Junos Space/etc)
Limited scripting skills (usually a few engineers who know how to script)
The skills gap between those who know CLI and those that can script.
Every vendor has their own specific tool to manage their network. For example, Cisco has Prime and DNA Center, Juniper has Junos Space and Security Director, Arista has CloudVision, and the list can go on. Each of these is great to manage their vendor's devices with updates and configurations.
I know a lot of engineers, myself included, that have a collection of scripts and playbooks that they have used and modified over and over. I know others that use Excel to create configuration files and yet others that still punch the keys to get the job done. Each of us does it our own way, it gets the job done, but is it efficient?
Some of the people that I work with are great with Ansible, yet they are not networking engineers. We need to collaborate and go back and forth just to get a decent playbook. Even then, that playbook is usually good for a subset of deployments – they do what we ask not always understanding why we need it. There is also the issue of working with different vendors, suddenly plays can get very complex.
GluWare has tried to address all these points, and from what I have seen they have addressed them relatively well in their application. I put them to the test by signing up for their Intelligent Network Automation Test Drive.

In their free on-line Test Drive (registration required), they have you work with Cisco and Juniper devices via their platform. This is a limited subset of devices but gives you a nice overall impression of what they can do. The main section that you work in on the Test Drive is the Device Manager.

An area in the Device Manager that caught my attention was Config Drift. This is a feature in GluWare that allows you to identify devices that have non-compliant configurations based upon either your standard templates (audit) or have had changes made to them that have not been "approved."
The audit took will give you a diff of the changes and highlight what has changed. This is also a good way to validate a change control process as you will be able to see what was changed and compare that back to the change procedure – do they match? What other devices now need this change? Either way, you now have a template that you can make the new standard if need be.

Another feature of GluWare is the ability to check for PSIRT vulnerabilities. This is actually something that customers ask us to check for when we work on their network, what other issues or vulnerabilities do they have that we can help them address. I thought it was really cool to see that this feature was included with GluWare.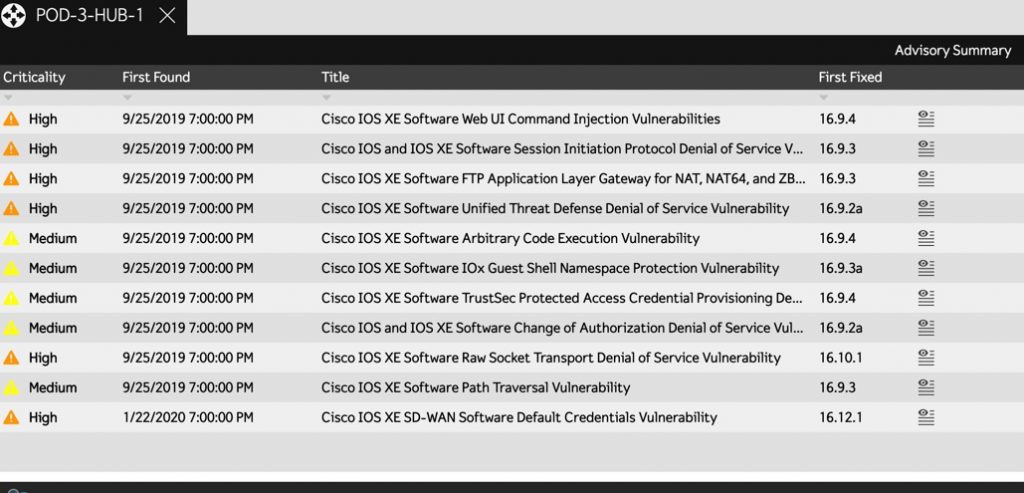 I would highly suggest that you take the test drive and see what their software can do as there really is too much to cover in a blog post. Many companies that I have worked with have wished for a tool that would help them with their network configurations. Most have tried the vendor tools or the Solar type tool, but with varying success. GluWare has the ability to be that tool and more – from deployment to audit, to security, and beyond. Go take the free test drive, see if for yourself!
Below are the videos from their Tech Field Day: NFD22 presentation – feel free to watch them as there is a ton of information there.
Disclaimer: I was invited to Networking Field Day 22 with GestaltIT covering travel and accommodation. There is no requirement to blog, promote, or produce any content from the event. This post is my opinion and my opinion alone.