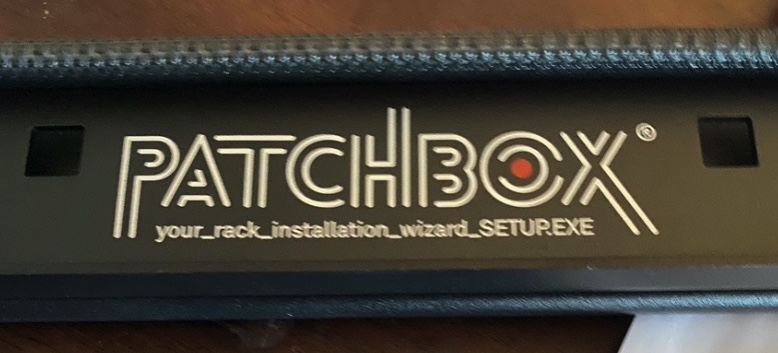 Over the past few months, while browsing social media, I came across an ad for the PATCHBOX Setup.exe and it caught my attention. I have installed and removed many network switches over my career and it can be a challenge to do this alone. Even with help, it can be hard to balance a switch during an install ( they do get heavier as the night gets longer ) or trying to not get in the way of installing the screws in the rack. The Setup.exe bills itself as a "third hand." In the words of George Takei, "Oh my!" Yeah, it definitely lives up to its billing.
As can be seen in the pictures above, it is a standard 1RU device that snaps into the rack via the two Quick Release pins. These pins are spring-loaded so you to quickly install or remove the device in the rack. It fits in just about any square hole type rack (think standard 4-post type). Surprisingly, the Setup.exe even fit my Skeletek rack that has a bit thicker front rail. Please be aware that this device does not work in racks with threaded holes.
When installed in a rack, it is about 15″ deep, meaning there is sufficient support for your device. To top of the device is coated with a rubberized finish that prevents your device from being scratched as well as helps to prevent it from slipping off. When the device is folded up for storage, there are magnets on the inside of the device that help keep it closed, which is well thought out touch.
The gallery above is actual photos of me using the device while removing items from some network racks recently. You can see that it is holding up a Cisco and Avaya switch with no problems. I recently did an install the other night and the Setup.exe had no problem holding a Cisco Catalyst 9300 with dual 1100 Watt power supplies in the four-post rack. It made the installation of those switches so much faster as well as easier.
Another feature of the Setup.exe is that if you mount it on the front of the rack facing towards you, it becomes a perfect shelf for your laptop or enen a place to hold a device while you prep it. In the pictures above you can see the Setup.exe holding my laptop and another picture of it holding a Cisco 2511 router. Yeah, that is a Cisco MAU on my 2511 – went all out on that one when studying for my IE back in the day.
Some other cool features of the Setup.exe is include that it has space for holding things to keep them handy. It has square holes for holding cage nuts, places you can run velcro through to hold your tools, and even little hooks where you can hang items from. There are a few things that I did wish it had:
There are two things that would make it even better:
1. Ability to be used in two-post racks as the majority of routers/switches are installed in these types of racks. Looking at the build, I would think they could make the snap mechanisms swappable with a screw-type by just swapping out the silver pieces as those are just bolted on.

2. A quick-release slide mechanism on the inside so, that when being used as a shelf, you do not have to reach into a tight space to release the Setup.exe. This could be a simple spring-loaded slide on the inside that catches the release button and releases the Setup.exe from the rack.
Recently I was able to use it during a customer installation and we saved hours of time as I was able to install while the other engineer worked on other items. The customer was also impressed as well and asked me where they could get one. They really liked that it was handy to use as a shelf for their laptops while they consoled into their devices. I strongly recommend that any person who has to install devices in racks or has to work in data centers pick one up. Overall this is a great tool and one that I would recommend that you have in your toolbag.
For complete transparency, I reached out to Patchbox and asked them if they would be interested in working with me to review their product. They agreed and they provided me a link to purchase the Setup.exe at a slightly reduced cost in exchange for my review. While they did not contribute editorially to this post, they have asked me to include "This post was written in collaboration with PATCHBOX" as they allowed me to purchase the Setup.exe at a reduced cost.
Be sure to head over to the PATCHBOX site and check the Setup.exe out. It is well worth the small investment as you will save so much time.