I have one way to describe the Broadcom session at NFD22, that term is NERDGASM! The presenters had to be some of the guys who are designing these chips, the depth of knowledge they had was incredible.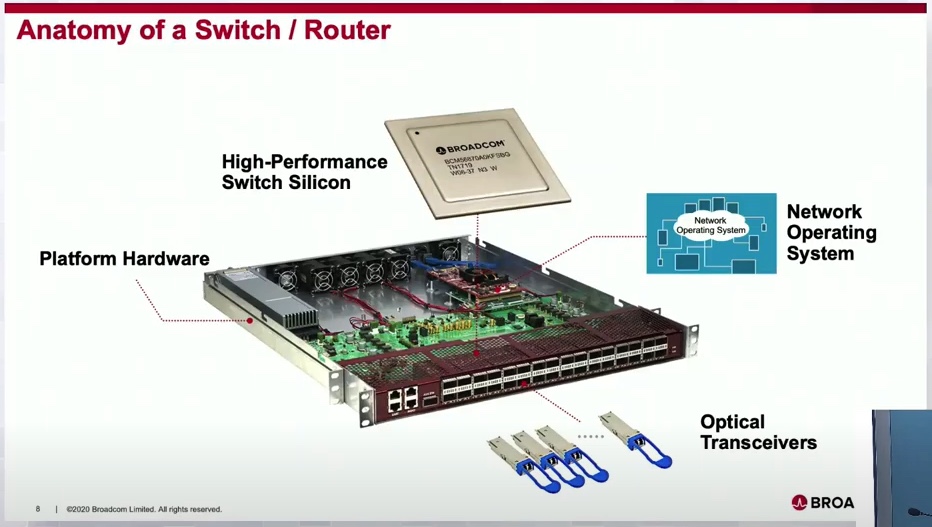 Broadcom are the engineers that make the merchant silicon chips that manufacturers like Cisco, Juniper, Arista, etc all use in their hardware. As you can see from the slide above, Broadcom is the heart of the unit as it is the silicon inside the switch/router.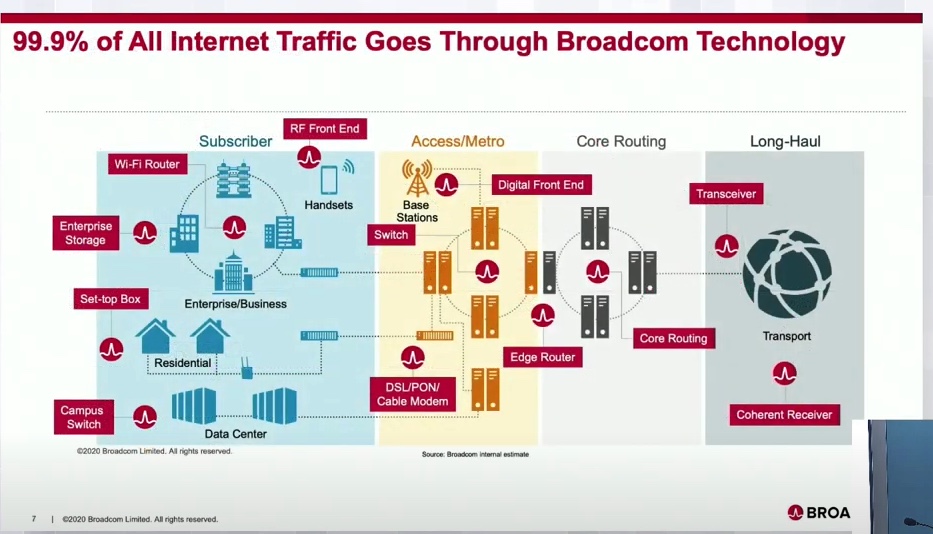 Did you know that it is estimated that "99.9% of all Internet traffic goes through a Broadcom chip." – Broadcom. They are in everything from the switch that your computer connects to and just about everything in between you and your web server. Just think, the traffic for you to read this website passed through how many Broadcoms chips just now?
Broadcom's chips fall into three main classes:
Trident Class
Jericho Class
Tomahawk Class

The Jericho class is geared towards what Service Providers need. That may include support for programmability, oversubscription of links, and the need for deep buffers, large-scale access-lists, and large tables for routing. These are the chips that support up to 10Tb of traffic on a single Jericho2 ASIC! The Jericho2 are designed to also use the RAMON chip to interconnect to other Jericho2 chips in a line card to increase scale and density on SP linecards.
The Tomahawk class is aimed at supporting Hyper-Scale Data Centers that have high IO with their East/West traffic. They need ultra-low latency between servers as well as some load balancing around the network. These chips can scale up to 25.6Tbps (256 x 100G ports) on the Tomahawk4.
The Trident class is targeted for Enterprise type networks that need a little bit of everything to support user mobility and applications. They need a good balance to support the end-users and their infrastructure. These chips only scale up to 12.8Tbps (Trident4).
The amount of information that was presented during the Broadcom session was incredible and the best way to really consume it is to check out the videos above. The amount of nerd detail there is just spectacular. From things link on-chip Modular databases in the Jericho2 to NPLang support on the Trident, and even why the Tomahawk was created for the Data Centers.
Disclaimer: I was invited to Networking Field Day 22 with GestaltIT covering travel and accommodation. There is no requirement to blog, promote, or produce any content from the event. This post is my opinion and my opinion alone.